DiscNS is pleased to announce the details for the 2018 Provincial High School Indoor 4 on 4Ultimate Championships, HS4UC.
The tournament is scheduled for Saturday, May 12th at Newbridge Academy. The facility surface is TURF. Cleats are strongly recommended.
Registration will close Monday, May 7th at 11:59 PM. To register, send an email to This email address is being protected from spambots. You need JavaScript enabled to view it. indicating your team or school and how many teams you are entering.
DiscNS will send an electronic invoice to all registered teams. Payments can be made through credit-card, e-transfers or cheques made out to DiscNS.

The schedule is dependent on how many teams register and will come out shortly after registration closes. No games will start earlier than 8 AM (no teams from outside HRM will play in the early slots) and no games will go later than 6 PM.

RULES AND FORMAT
The format is MIXED, 4 v 4, SPEED POINT. Contrary to the name, Speed Point has a short stoppage between points for line changes. There are pulls only at the start of each half, and there is no subbing on the fly allowed (as opposed to Continuous).

You can read more about the rules here (two exceptions are described below): https://www.ocua.ca/4x4-rules

These rules are used by Ultimate Canada in the National Indoor Championships with two notable exceptions, which were amended in the Canadian 4's Ultimate Championships tournament manual:

1. The gender ratio will stay at 2:2 for the duration of the game. Offense does not have the option to set 3:1 on any point, UNLESS it has been discussed and agreed upon between coaches prior to the game starting.

2. The Contact Call is in effect. A description can be found here:
https://www.usaultimate.org/college/guidelines.aspx#Rules
As always, if you have any questions, don't hesitate to contact David Archibald at This email address is being protected from spambots. You need JavaScript enabled to view it..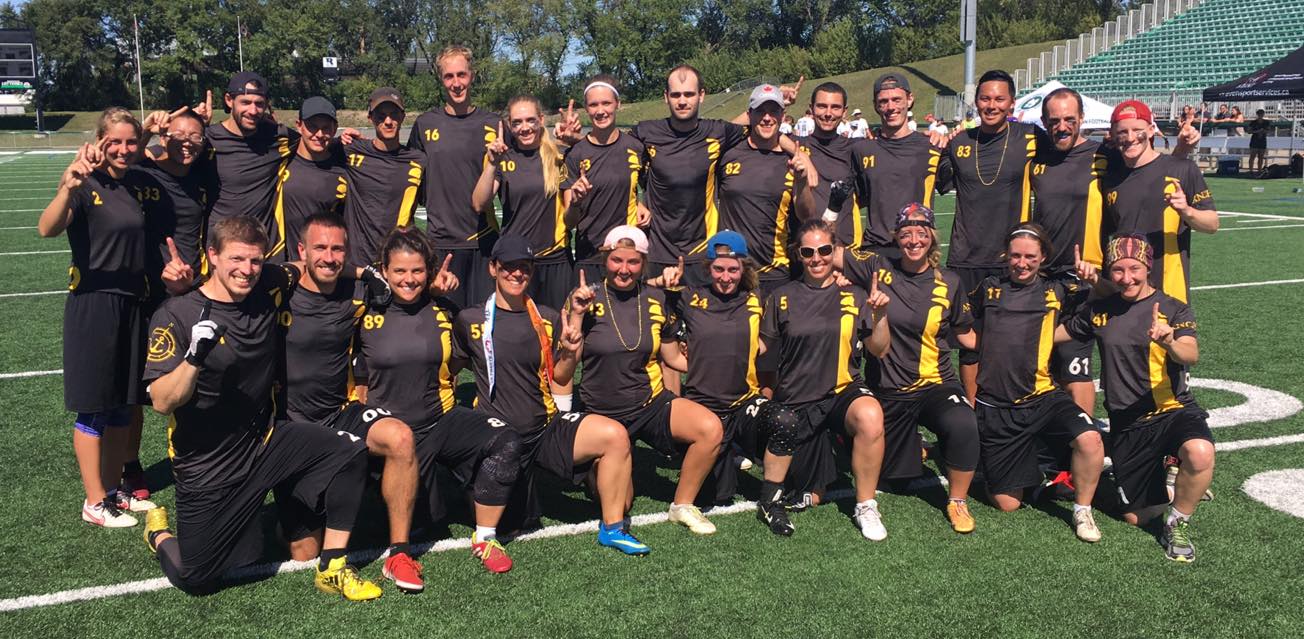 This past weekend Anchor, Nova Scotia's mixed ultimate team, claimed gold at the Canadian Ultimate Championship in Saskatoon, with a thrilling universe point victory over the fifth seeded Crash. Anchor entered the tournament as underdogs with an initial seeding of 7th place, and then proceeded to go undefeated in the tournament, with big victories including beating the second seeded Banana Cutters in pool play (14-13), the fourth seeded Bunny Thugs in the quarter-finals (12-10), and the third seeded Battleship in the semi-finals (14-10). Congratulations on a well deserved title!